Activities
Tamariki River Kayaking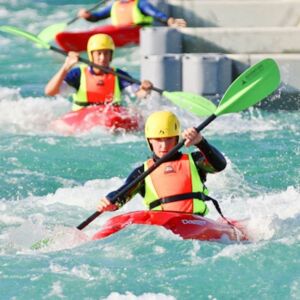 Kayaking for 8 yrs old and above.
Intermediate experience and Tamariki River certification required.
If a session time is not open, please call 09 976 7777 or email weroreception@wero.org.nz to confirm availability.
The fun and excitement starts here. Get a taste of recreational paddling on this gently sloping, downhill Grade 1-2 course. Kayakers with intermediate experience can familiarise with the boat on the water and build confidence for the next step.
Day Passes
A great deal for regular kayakers, this stand by pass offers a minimum of two (2) hours water activity within an eight (8) hour period. Extra hours subject to availability.
Season Passes
Summer – November 1st to April 30th
50% off 6-month boat storage with season pass.
Winter – May 1st to October 31st
50% off 6-month boat storage with season pass.

Annual Passes set dates
Summer start – November 1st to October 31st
Free 12-month boat storage with annual pass.
Winter start– May 1st to April 30th 
Free 12-month boat storage with annual pass.

Requirement
Kayakers will need to be at least eight ( 8 ) years old with intermediate kayaking experience. You will need to be Tamariki River course certified to ride this river. Book a certification assessment.

Kayakers need to bring their own kayak, buoyancy aid, helmet and paddle.
Available Add Ons for Hire
Boat and/or equipment
Lockers are $2.00 per two hours. Payment via debit/credit card and coins only.
Note: The Pump Waterfall activity is not an available add on for Tamariki River Kayaking.
Total duration
Allow 90 minutes from the booking time. Activity is for one (1) hour share time with rafts. Kayakers must call 09 913 5251 to confirm water flow times prior to visit. Click here to view the Kayak check in times.
Suggested clothing
Dri-fit shirt, Thermal polypropylene top for colder weather. Bring your own towel and sunscreen. Refrain from wearing jewellery and other valuables.
Activity includes
Use of changing rooms with shower
50% off 6-month boat storage with season pass
Please click here to review the terms and conditions of the white water park before booking.
Questions?
Click here for frequently asked questions.