Activities
Private Lessons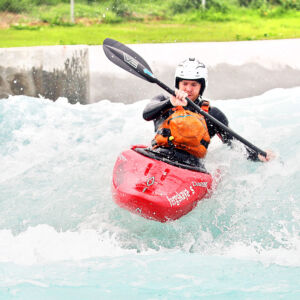 $80 Instructor Fee (1:1)
$10 Gear (if required)
Contact Us
Custom lessons to kick your kayaking skills to the next level. This one ( 1 ) hour session on flat water has been designed to give you a taste of what kayaking has to offer and hopefully wet your appetite for more.
For session dates and bookings, call 09 976 7777 or email weroreception@wero.org.nz.
Adventure Level: Low to High depending on session needs
One ( 1 ) hour session catered to individual needs

Freestyle Development
One-on-One Coaching 
Rolling Sessions 
Coast to Coast Specific Lessons
Progression from one course to the another, our relevant river experience required (assessed by instructor)
Ratio per person for Instructor Fees
1:1 - $80
1:2 - $100
1:3 - $120
1:4 - $140
1:5 - $160
1:6 - $180 
Total duration
One ( 1 ) hour
Suggested clothing
Dri-fit shirt, shorts and secure, lace up footwear ie sneakers. No aqua socks. Bring your own towel and sunscreen. Refrain from wearing jewellery and other valuables.
Please click here to review the terms and conditions of the white water park before booking.
Questions?
Click here for frequently asked questions.