Activities
Tamariki Inflatable Kayaking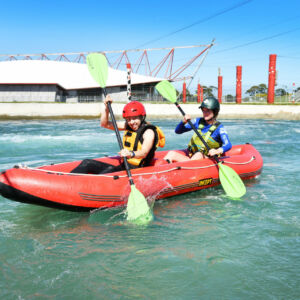 Unguided recreational inflatable kayaking on Grade 1-2 river for 13 yrs old and above. 
Don't have your Vector Wero Grade 2 certification? No worries! Inflatable Kayaking on the Tamariki River is the best way to experience the whitewater if you are not yet certified.
Vector Wero have both single and double inflatable kayaks that offer great stability and control over your experience. A higher level of water confidence is required as you won't have a guide with you on the water. 
Total duration
Allow 2 hours from check-in time. Includes one (1) hour on the water.
Suggested clothing
Swimwear and/or dri-fit shirt. Thermal polypropylene top for colder weather. Bring your own towel and sunscreen. Refrain from wearing jewellery and other valuables.
Activity includes
Buoyancy aid, safety helmet, paddles, Inflatable kayak and booties
Use of changing rooms with showers
Available Add Ons
Lockers are $2.00 per two hours. Payment via debit/credit card and coins only.
Wetsuits available to hire at check-in ($10)
Click here to review the terms and conditions of the white water park before booking.