Freedom Hire - Kayaks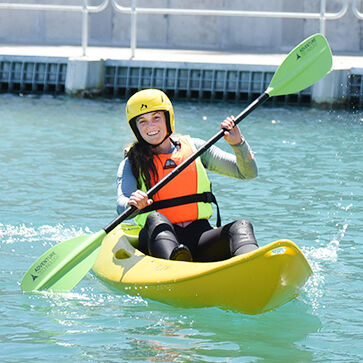 Paddle & explore the lake at your own pace - hire a kayak! Vector Wero Whitewater Park has a range of flat water hard shell and inflatable sit-on-top kayaks for hire. Sit on tops are safe and easy for everybody to use – even if you have never kayaked before.

Students must be 8 years or over on the day of the activity.
Total duration
Allow two ( 2 ) hours from Check-In time
Check-in & safety briefing (45 min)
On the water (1 hour)
Students ready to depart (15-30 min)
Additional Information
Please note that freedom hire is self-guided. For a guided session, please click here
Standard check-in times: 9am, 10.30am, 12pm
No adults are required to participate
Swimming gear is recommended
Changing rooms/showers on site
Gear Included:

Helmet
Personal Flotation Device
Wetsuit boots

Wetsuits available for hire (please enquire when booking)
Please note that Friday's & Saturday's are not available to book in December.
Please note that the students do not go on the whitewater or waterfall during this activity.
Please click here to review the terms and conditions of the white water park before booking.