Paddleboarding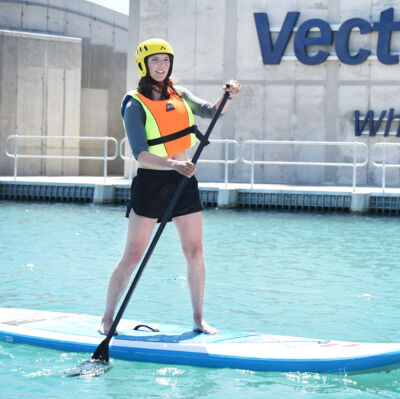 Covid-19 Guidelines
To meet government guidelines, all visitors and customers will be required to give information and/or present their My Vaccine Pass (MVP) through our booking process, at Check-in or when visiting the facility. Any person who cannot present an MVP will not be allowed to enter the premises nor participate in any activity. 
Please note that students attending as part of an EOTC activity with a registered school, are exempt from this requirement.

If you have cold, flu or COVID-19 symptoms prior to your visit or activity, please stay home and call your doctor or Healthline on 0800 358 5453 for advice about getting tested. You will be eligible for a reschedule of your activity or a full refund.
For more information, click here.
===
Paddle & explore the lake at your own pace - hire a paddleboard! Vector Wero Whitewater Park has inflatable paddleboards available for hire. Paddleboards are safe and easy for everybody to use – even if you have never used one before.

Students must be 8 years or over on the day of the activity.
Total duration
Allow two ( 2 ) hours from check-in time
Check-in & safety briefing (45 min)
Paddleboarding on the lake (1 hour)
Students ready to depart (15-30 min)
Additional Information
Please note that this session is not guided
Adults are not required to participate
Swimming gear is recommended
Changing rooms/showers available on-site
Gear Included:

Helmet
Personal Flotation Device
Wetsuit boots

Wetsuits available for hire (please enquire)
Maximum of 10 participants per session
Please note that Friday's & Saturday's are not available to book in December.
Please note that the students do not go on the whitewater or waterfall with this activity
Please click here to review the terms and conditions of the white water park before booking.