Activities
e-Gift Card - $100 Value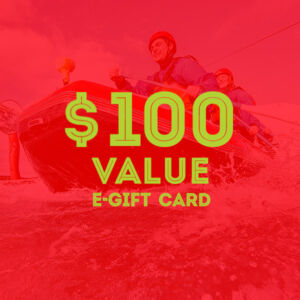 Covid-19 Guidelines
If you have cold, flu or COVID-19 symptoms prior to your visit or activity, please stay home and call your doctor or Healthline on 0800 358 5453 for advice about getting tested. 
For more information, click here.
===
Please ensure that the person/people you are purchasing the gift card for, has a My Vaccine Pass (if 12 and over).
Do you want to give the perfect adventure but not sure which one? The Vector Wero E-Gift Card is the perfect gift! It can be purchased with pre-loaded dollar values and used to purchase activities at the white water park.
Please note that this product can only be issued in digital format and we do not issue physical gift cards.
Covid-19 Guidelines
To meet government guidelines, all visitors and customers will be required to give information and/or present their My Vaccine Pass (MVP) through our booking process, at Check-in or when visiting the facility. Any person who cannot present an MVP will not be allowed to enter the premises nor participate in any activity. 
Terms and Conditions
This E-Gift Card allows the purchaser to gift $100 towards an activity at Vector Wero Whitewater Park. The cash value cannot be applied to catering.
This E-Gift Card is not exchangeable for cash or replaced if lost or stolen. 
Valid for one (1) year from the date of issue.
Vector Wero Whitewater Park Terms and Conditions will apply.