Activities
Rafting Family Package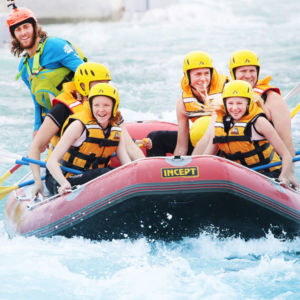 $160 per family
Book Now
Recreational rafting on Grade 1-2 river for four to seven people. Children must be 5 to 13 years old.
Bring the family along and ride the gentle rapids of the Tamariki River for a special package of $160. The activity is for four ( 4 ) people and can have either one or two adults, or a group of four children. You may add up to three ( 3 ) additional children. Children must be between 5 to 13 years old.
Total duration
We require you to arrive 15 minutes before your Check In time to fill out the required documents. Allow two (2) hours for your activity. This includes safety briefings, your one (1) hour activity on the water and time to change before and after the activity.
Suggested clothing
Dri-fit shirt, shorts and lace up shoes. Bring your own towel and sunscreen. Refrain from wearing jewellery and other valuables. Limited number of wetsuits are available upon request.
Activity includes
Buoyancy aid, safety helmet, paddles and booties
Use of changing rooms with shower
Available Add Ons
Lockers are $2.00 per two hours. Payment via debit/credit card and coins only.
Note: The Pump Waterfall activity is not an available add on for the Family Rafting Package.
Please click here to review the terms and conditions of the white water park before booking.
Questions?
Click here for frequently asked questions.