Activities
River Rush Kayaking (1 hour)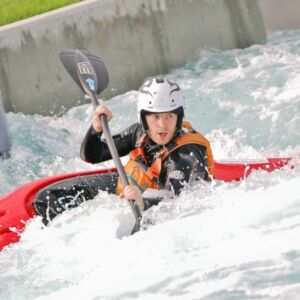 $22 Adult Session Pass (1 hour)
Book Now
Please note that River Rush certification is required.

This Grade 3-4 advanced white water course is designed for national and international competitions. It's the perfect course to develop your technique and level up! Session pass also includes the Pump Waterfall at the end of the session.
Please click here for check-in times. If a session time is not open, please call 09 976 7777 or email weroreception@pacific.org.nz to confirm availability.
Requirements
Kayakers will need to have advanced level experience and River Rush certification to ride this river. Book a certification assessment.
Available Add Ons
Boat and/or equipment hire
Wetsuit hire
Lockers are $2.00 per two hours. Payment via debit/credit card and coins only.
Total duration
Allow 90 minutes from the booking time. Activity is for one (1) hour share time with rafts. 
Activity includes
Use of changing rooms with shower
Use of waterfall while rafts are running it (at the end of the session)
Other River Rush kayaking passes
Day Passes - A great deal for regular kayakers, this stand by pass offers a minimum of two (2) hours water activity within an eight (8) hour period. Extra hours subject to availability. The day pass also includes the use of the Tamariki River.
Season Passes (includes 50% off 6-month boat storage)

Winter: May 1st to October 31st
Summer: November 1st to April 30th

Annual Passes set dates (includes free 12-month boat storage)

Summer start: November 1st to October 31st
Winter start: May 1st to April 30th 
Please click here to review the terms and conditions of the white water park before booking.
Questions?
Click here for frequently asked questions.