Activities
Intermediate White Water Kayaking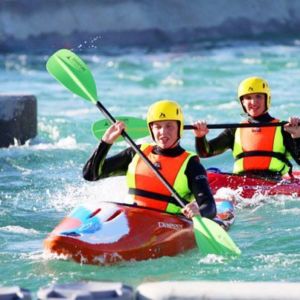 $225 per person per programme
Email to Book
Intermediate lessons for kayaking. 
For session dates and bookings, call 09 976 7777 or email weroreception@pacific.org.nz.
Are you ready to take on our Grade 2 white water with confidence? Come get to grips with the challenges and excitement that our course has to offer. Our instructors will work you through the required skills required to tackle this adventure.
Session 1
Tailrace and Grade 2
Our first level of intermediate kayaking will build on your fundamental river running skills, and give you confidence to rescue and be rescued in a white water environment.
Session 2
Grade 2
For the second level of our intermediate kayaking, we will have you getting straight into the action on the Grade 2, rolling in moving water will also be a focus.
Session 3
Grade 2
Rolling with ease is the name of the game in this final intermediate white water session. Dissecting the river into manageable sections and attacking it with everything you have learnt up to that point.
Adventure Level: High
Progression from the beginner course, our relevant river experience required (assessed by instructor)
Rolling ability on the flatwater is essential for this course
Sign off for Grade 2 course competency potential during these sessions
Requirement
Participant need to be atleast eight ( 14 ) years old
Participant must be physically fit, a strong swimmer and be very confident in the water
Total duration
Three one and a half ( 1.5 ) hour sessions over three weekends, or one intensive weekend
Suggested clothing
Dri-fit shirt, shorts and lace up shoes. Bring your own towel and sunscreen. Refrain from wearing jewellery and other valuables.
Activity includes
Boat and equipment
Use of changing rooms with shower
Available Add Ons
Wetsuits
Lockers are $2.00 per two hours. Payment via debit/credit card and coins only.
Please click here to review the terms and conditions of the white water park before booking.