Activities
Adaptable Kayaking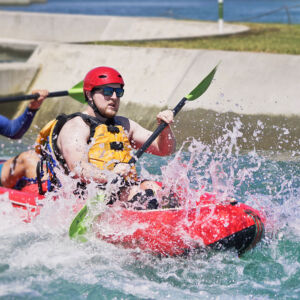 Vector Wero offers accessible kayaking down the Grade 1-2 Tamariki River  for persons living with disabilities.
Vector Wero also has an accessible paddleboarding activity. Click here for more information.
If you have full trunk function, contact us. For all other abilities, contact your adaptive adventure consultant on jezza@makingtrax.co.nz and include details on your abilities and weight so we can tailor the experience for you.
Requirement
All activities require participants to know how to swim.

Suggested clothing
Dri-fit shirt, shorts and secure, lace up footwear ie sneakers. No aqua socks. Bring your own towel and sunscreen. Refrain from wearing jewelry and other valuables.
Activity includes
kayak, paddle, helmet, buoyancy aid
Use of changing rooms with shower
Available Add Ons for Hire