Activities
Beginner White Water Kayaking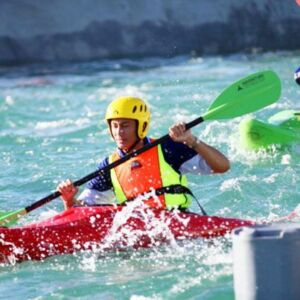 $270 per person per programme
Email to Book
Beginner lessons for kayaking
For session dates and bookings, call 09 976 7777 or email matt@pacific.org.nz
Would you like to become a whitewater paddler? Are you ready to take the plunge? Let our team of skilled and friendly instructors help develop your skills in a safe but challenging environment.
Level 1
Flatwater & Tailrace eddies with an Introduction to Rolling
Our first level of beginner whitewater kayaking will introduce you to the fundamental skills needed to paddle white water. Starting with an introduction to the sport and learning about the whitewater environment, you'll learn how to control your kayak using basic paddle strokes.
Level 2
Tailrace eddies and Grade 2 including Rolling
Our second level of beginner kayaking will build upon the skills covered in level 1, as well as being introduced to safety techniques & theories that will form a great foundation for your future in kayaking, culminating in your first paddle strokes in grade 2 whitewater.
Level 3
Grade 2
The third level of our beginner sessions focuses on breaking down the river to its basic elements and mastering each one. Finishing with a free paddle session with the instructors, where we can work on individual elements of your paddling.
Adventure Level: Medium
Levels may be repeated as necessary
Basic kayak fundamentals required
Requirement
Participant need to be atleast eight (8) years old
Participant must be physically fit, a strong swimmer and be very confident in the water
Total duration
Three two ( 2 ) hour sessions over three weekends, or one intensive weekend.
Suggested clothing
Dri-fit shirt, shorts and lace up shoes. Bring your own towel and sunscreen. Refrain from wearing jewellery and other valuables.
Activity includes
Boat and equipment
Use of changing rooms with shower
Available Add Ons
Wetsuits
Lockers are $2.00 per two hours. Payment via debit/credit card and coins only.
Please click here to review the terms and conditions of the white water park before booking.